---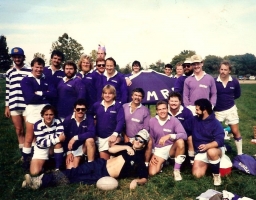 Old Boys Sunday Morning RFC team is the 2012-2013 Division III Championship Team of the Missouri Rugby Football Union. The team is based in St. Louis but has members from both sides of the river .The Sunday Morning organization has two components... The first is the Rugby Team Membership and is made up of the active players who currently play on a day to day basis. The second is the Rugby Club Membership which is mostly made up of retired Sunday Morning Rugby players, current players, and others who enjoy the sport of rugby. Sunday Morning RFC is the only St. Louis team to have a private club house to host social events and to conduct team and club business. We are always looking for new players!...(more)...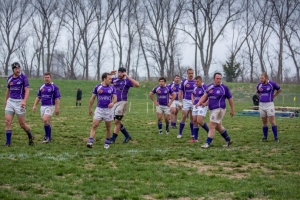 Western Championship 2013August 14, 2013 - Sunday Morning Rugby Club starts Fall Practice - 7:00 PM on Wednsday nights at the Main Practice Field 4354 S Kingshighway Blvd. - Walk on players are always welcome. No experience needed. We also welcome experienced players looking for a rugby club in the area... Foreign players looking for a team are also encouraged to joing our club...(more)...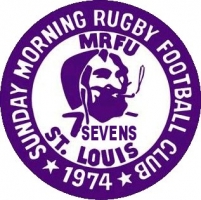 SMRC 7sSummer 2013 - Sunday Morning Rugby Club Summer 7s - Coach Chris F. and Mark F. lead the SMRC 7s team to another exciting Summer season. To recap: SMRC 7's played 2 tournaments; Belleville and Memphis. SMRC Placed 4th of 8 teams in the Belleville. There were 20 teams total in Memphis and 5 pools of 4... Sunday Morning went 3-0 in pool play and won the pool but lost in the first round of the playoffs. The Missouri 7's season was a bit disappointing (keeping in mind that SMRC had several new players out this summer learing rugby for the first time)...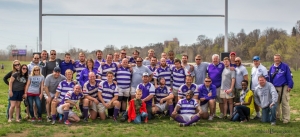 Western Championship SMRC 2012-2013April 27, 28 2013 - Sunday Morning Rugby Club traveled to Storz Rugby Park Omaha, NE to play in the Western Rugby Union 2013 Men's Club Division III Championship. SMRC started of strong with a win against Souix Falls. After a loss to Wichita Sunday Morning had a chance to play for third place against Northern State but were unable to capitalize on that opportunity and finished in Fourth Place. The Coaches had hoped for a better outcome but still were please with their season ending and first trip to Western in many years...

SMRC vs FC Championship Weekend Spring 2013Sunday Morning Rugby Club came ready to play Saturday after the Championship match was postponed due to the record breaking snow storm and a week of controversy over who their opponent would be. At the first whistle Sunday Morning was fired up and gained control of the match by putting up the first points. Some good ball handling by the backs and nice hustle by Chet to put the first try on the board. Both teams battled with SMRC on the attack for a little while and the Hornets were able to answer with a try of their own by picking off purples offense and running the length of the field.

Sunday Morning Rugby Club Champions 2012-2013Sunday Morning Rugby Wins over the Hornets 32-12 to become the Missouri Rugby Football Union Division III Champions 2012-2013! Over the past few years the team has pulled together and worked hard to achieve this goal. The sidelines were filled with players, Old Boys, Wives and Girlfriends, friends and supporters cheering the team on to a victory. Thank you to everyone who came out and supported the team this year! Thank you to all the coaches for their time and hard work! Thank you to all the players who are committed to building a stronger team and club!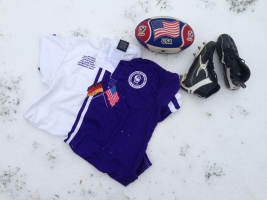 SMRC vs Snow Spring 2013: Snow Spring 2013SMRC vs Hornets Championship Match has been postponed due to weather (March 24, 2013 Sunday Forest Park Match). Check back here or to Sunday Morning Rugby Facebook page for updated match information. Don't forget to come out and support your team!!! **UPDATE** CHAMPIONSHIP Match to be played March 30, 2013 Saturday Forest Park, Cricket Field, 3:00pm! Come out and support the team! (Bombers have been ruled ineligible due to roster issues. The Championship Match will be against the Hornets.)


SMRC vs FC Championship Weekend Spring 2013 Fans: Just some of the Fans at the Match!Sunday Morning Rugby Club wins against Franklin County in the first round of MRFU Championship Weekend. This means that SMRC has earned a spot to travel to Westerns in April. SMRC will also play the Bombers for First Place in the MRFU in our Division. The Championship match is scheduled to play at Forest Park at 1:00 pm Sunday March 24, 2013. Please come out and support the Team! Be advised that weather may postpone this match so check your email and Facebook for updates Sunday Morning before the match! Check out events page for match summary.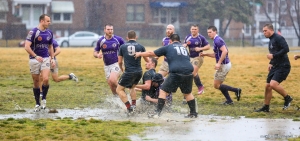 SMRC Spring 2013: SMRC vs Scorpions Spring 2013Saturday, March 23, 2013, 1:00pm Marquette Park - For the second year in a row Sunday Morning Rugby Club has placed first in the MRFU Div. Bracket to earn a chance at the Division Chamionship and the oppotunity to represent MRFU in the Western Rugby Footbal Union Tournament. SMRC will face Franklin County RFC on Saturday. The winner of the match will play for the Championship on Sunday March 24, 2013 at Forest Park. We need everyone to come out and support the team!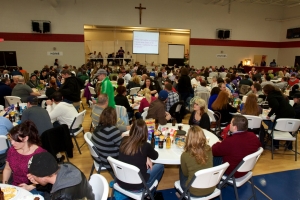 Trivia Night 2012: St. Mark Parish CenterTrivia Night February 23, 2013 - It's that time again... Sunday Morning's World Famous Trivia Night! Doors open at 6:15pm with trivia begenning at 7:00pm. St. Mark Parish Center - 4220 Ripa Ave. 63125. $300 Cash prize award to 1st place team. Schafly and some A/B products, popcorn, soda and water included. Bring your own refreshments and snacks if you wish. Raffles, Mulligans and Other fun ways to win! Tables are $200 each and may have up to 8 people. Please send $200 per table as soon as possible. All reservations should be paid ASAP. Make your check payable to SMRC and mail it to 6070 Wanda Ave. St. Louis, MO 63116.